Blue Balls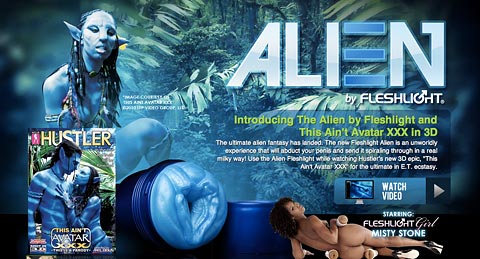 We've long since packed away our Na'vi gags in the Stinque Storage Unit, and really, there's no point riffing on the Inevitable:
The ultimate alien fantasy has landed. The new Fleshlight Alien is an unworldly experience that will abduct your penis and send it spiraling through in a real milky way! Use the Alien Fleshlight while watching Hustler's new 3D epic, "This Ain't Avatar XXX" for the ultimate in E.T. ecstasy.
We must be out of the loop, since "This Ain't…" seems to be a popular series of Hustler videos, including This Ain't Glee XXX, This Ain't I Dream of Jeannie XXX, and… and… this can't be right…
This Ain't Curb Your Enthusiasm XXX.
We don't know about you, but the thought of Larry David, Jeff Garlin and Richard Lewis in a three-way kinda eliminates the need for a Fleshlight.
Add a Comment
Please
log in
to post a comment