Geraldine Hoff Doyle (1924-2010)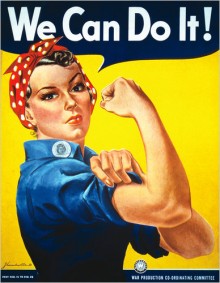 Geraldine Hoff Doyle, who as a young woman was the model for the Rosie the Riveter image of WWII, died on Sunday from complications of arthritis.  She was a 17-year-old metal-presser at a factory outside of Detroit when an Associated Press photographer took a picture of her at work.
She quit two weeks after the photo was taken, as she was a cellist and didn't want her hands crushed like another woman's were in a factory accident. She took a job at a soda fountain, where she met her husband. They had 5 children and were married 66 years.
A few liberties were taken with the image by a graphic designer (she wasn't flexing her guns in the photo), and was used by Westinghouse as part of a campaign to deter strikes. In the mid-70s it was embraced by the feminist movement.
Add a Comment
Please
log in
to post a comment