Teabaggers' Paradise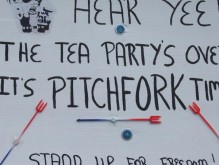 Who would have thought that sodomy-loving, latte-drinking Noo Yawk City would have been Ground Zero for what happens when government services are cut back to the bone, but apparently because the Sanitation Department lost a bunch of employees, streets weren't getting snowplowed as quickly as usual (Exhibit A: Blogenfreude's crazy pictures of West 30th Street yesterday).
The problem with streets not being plowed is that while the locals can strap on snow shoes or cross-country skis, it's a bit of an issue for the sick, the pregnant, and the ambulances.
To wit:
Ambulances assigned the most serious of the calls sometimes could not get there. At least 200 ambulances got stuck on unplowed streets or were blocked in by abandoned cars, city officials said Tuesday. […]

Fire Department officials said they received a 911 call at 8:30 a.m. on Monday from a woman in labor in Crown Heights. But because her birth was not imminent, she was assigned a non-emergency status. […] At 4:30 p.m., a second call came in, saying there was bleeding and the baby was crowning. Police arrived first, after walking several blocks to the building. The baby was laid out on blankets and was not breathing. The umbilical cord was still attached.  The baby did not survive.
I'm waiting for the Paultards and Teabaggers (or Mayor Economic Efficiency Bloomberg) to explain why exactly we shouldn't pay taxes to pay to have our streets plowed, or the ambulances able to go save mothers in labor, or the brain damaged old woman, or survivors of a house fire, profiled in the article.
Taxes are what we pay for a civilized society, to quote Justice Holmes.
Add a Comment
Please
log in
to post a comment