The W is for 'Wishful Thinking'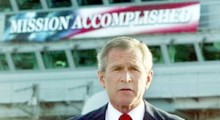 Preznit git bad review:
Decision Points flaunts its postmodernity by blurring the distinction between fiction and non-fiction. That is to say, the parts that are not outright lies – particularly the accounts of Hurricane Katrina and the lead-up to the Iraq War – are the sunnier halves of half-truths. The legions of amateur investigative journalists on the internet – as usual, doing the job the major media no longer perform – are busily compiling lists of those lies. Gerhard Schroeder has already stated that the passage in which he appears is completely false. And even Mother has weighed in. Interviewed recently on television, she said she never showed Junior that jar, but maybe 'Paula' did. (It was assumed we would know that Paula was the maid.)
Probably the first and last time I will see the names George W. Bush and Michel Foucault in the same piece.
Add a Comment
Please
log in
to post a comment