Way Down in The Hole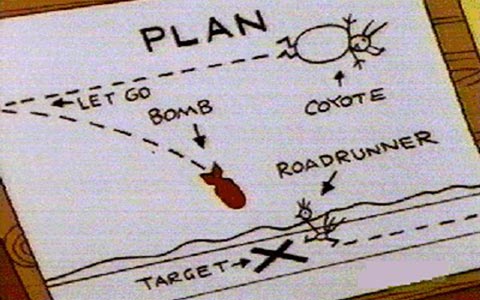 Another thwarted wannabe terrorist, another FBI affidavit…
We won't dive as deeply into this one, because now we know what to look for: Was there a plot afoot before the FBI stepped in to aid and abet? Was the FBI protecting us, or just appearing to protect us?
Our story begins, as all stories do, on Facebook:
On September 29, 2010, MARTINEZ made a public, open source posting on his Facebook account stating: "The sword is cummin the reign of oppression is about 2 cease inshallah ta'ala YA muslimeen! don't execept the free world we are slaves of the Most High and never forget it!" On October 1, 2010, he made another public posting: "Any 1 who opposes ALLAH and HIS Prophet PEACE.Be.upon.Him I hate u with all my heart." On October 8, 2010, the CHS brought this information about MARTINEZ to the attention of the FBI.
CHS stands for Confidential Human Source, or Freelance Fink. We're told nothing about the Fink, which is a shame. This being Baltimore, we're curious which character from The Wire we're dealing with.
And how did the Fink come across the Perp's Wall — apparently some days after those posts? The story we're not being told is actually more interesting than the one on the page.
For that matter, the story on the page is curiously familiar:
On October 10, 2010, in response to these postings, the CHS communicated with MARTINEZ over the latter's Facebook account. MARTINEZ told the CHS that he wanted to go to "Pakistan or Afghanistan (a country that struggle for the sake of allah swt.)."
As before, the Perp's first wish is to take his argument overseas. But unlike before, it appears that the Perp redirects his attention stateside without Federal assistance:
On October 22, 2010, according to information provided by the CHS, MARTINEZ approached the CHS about attacking Army recruiting centers or anything military… Because MARTINEZ believed his own criminal record precluded him from purchasing a gun, MARTINEZ suggested that the CHS purchase a weapon for him…
If we're to believe the Fink — which we're not obligated to — this is the moment the attempted conspiracy begins, and solely of the Perp's own devising. Our story now diverges significantly from Portland, since there the FBI had to practically beg that perp to think of a local target.
So we can't quite accuse the FBI here of inventing something from nothing.
Just almost nothing:
At one point during the October 28 meeting, the CHS and MARTINEZ were joined by another individual (PERSON 1). MARTINEZ spoke to this individual in general terms about his beliefs regarding jihad in an effort to obtain PERSON 1's support. PERSON 1 was not interested and they parted ways…

During a recorded meeting with the CHS on November 4, 2010, MARTINEZ introduced the CHS to PERSON 2, whom MARTINEZ described as a potential recruit for his operation. PERSON 2 refused to participate, telling MARTINEZ that what he wanted to do was wrong ideologically, would cause harm to Muslims, and probably would result in MARTINEZ getting caught…

During the November 15 meeting, MARTINEZ and the CHS met with PERSON 3, an individual MARTINEZ said could provide them with guns… PERSON 3 rebuffed MARTINEZ, telling him that it would take years of study to wage jihad successfully.
Seems the Perp talked a big game, but couldn't get any traction. At least, not until November 16, when he met the Afghani Brother, here played by the UC — Undercover Fed:
MARTINEZ told the UC about his "goal" to become "Shaheed" (a martyr), and his desire to attack the "Armed Services Center" on Route 40. He stated that he wanted to go in there with a gun and shoot each person, but he needed training… The UC told MARTINEZ to tell him what he wanted to do and he (UC) would support him, so long as MARTINEZ promised to keep their discussions and plans between them.
Finally, the Fake Plot is on!
But as it unfolds, as we read through pages establishing that the Perp had evil in his heart and oatmeal in his head, there seems, like before, to be something missing:
A co-conspirator.
Not for lack of trying, of course. The Perp asked three people to help him, and all three refused. In the end, the FBI "protected" us from somebody who couldn't even commit a crime on his own.
Perhaps it's better that they took him off the streets before he could find a willing accomplice — while the situation was still under control. Or, perhaps, they should have waited until something more substantial developed — the Fink was keeping close tabs, after all, and the FBI didn't step in directly until the potential helpers declined.
Because maybe there are networks of terrorist moles in the United States. And if there are, it would be nice if we used potential leads like this to catch them, instead of wasting our time on elaborate stings to capture ineffective hotheads.
As it stands, we don't feel safer, now that a patsy is in custody. Instead, it seems that the FBI is using Facebook as a convenient means to meet its quota, and not bothering to fulfill its duty.
Add a Comment
Please
log in
to post a comment