Stinque Recipe Challenge
I have the night off – the girlfriend is cooking me chicken katsu: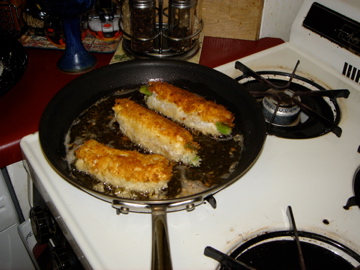 Very easy – pound out chicken breasts (or pork cutlets) and cut in half. Roll up a few half-cooked asparagus and thinly-sliced umeboshi (Japanese plum pickle) in the chicken, then flour, dip in a beaten egg, then into Japanese panko bread crumbs. Fry in high-smoke-point oil and serve with tonkatsu sauce. Heaven. You can find all of these ingredients at any Japanese grocery.
Wine suggestion: Beaujolais or Beaujolais Nouveau.
Add a Comment
Please
log in
to post a comment