You're Not Helping. Or Are You?
OK. So the Iowa Hawkeyes' game this afternoon against The… Ohio State University will feature a pregame ceremony honoring Medal of Honor recipient Staff Sgt. Salvatore Giunta — who, fortunately, is from Iowa. Which is nice, all things considered.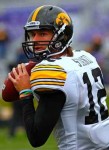 All things considered, of course, except for this tripe from Iowa's star quarterback, Ricky Stanzi:
"I don't know how other colleges are, but when you walk around here, you've got people … you've got guys walking around in dresses and just these hippies. They're doing nothing. There's the Ped Mall area down there, right in the middle. Those people are going nowhere. Those people are the people who don't like America. They always find something wrong with [America]. They're the problem. They're the people who need to change and figure it out. They need to get it together and work hard."
The instareaction is, of course, annoyance. Guys walking around in silly clothes wanting to change the world MADE THIS COUNTRY GREAT. Hell: look at Ben Franklin — dude did so much for America and still had time to make frilly shirts look faaabulous.  Even on fat guys like him!
Or: how about satire? Seriously, the Buckeyes' d-line should move from their four-point stances to a knee, in unison, and ask Ricky to marry him. He crosses the line to punch the nose tackle in the throat.  False start (5 yards).  Unsportsmanlike conduct (15 yards).  First-and-ten goes to first-and-thirty.  And Ricky gets tossed.  You're welcome.
But having hippies get off their asses and do something? Like, say, elect Iowans who aren't knuckledraggers like Steve King?  Ricky may have a point after all.
Anyway: big slate of college football today.  Wisconsin at Michigan in a massive Big Ten tilt.  Illinois and Northwestern will cram (literally) into Wrigley Field. Domers to the Bronx to try to salvage an awful season against Army.  Haaahvid and Yale have their clambake.  And, oh, by the way: Stanford at Cal for Big Game.  Allow this to serve as your College Football Smackthread.  Enjoy!
Add a Comment
Please
log in
to post a comment