Vote for Mayor McCheese, or Else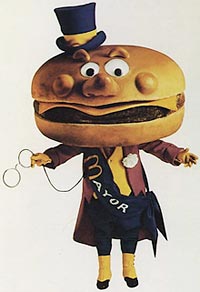 Our guest columnist is a red-haired clown who offers delicious, long-lasting meals to the public, writing from Canton, Ohio.
As the election season is here we wanted you to know which candidates will help our business grow in the future. As you know, the better our business does it enables us to invest in our people and our restaurants. If the right people are elected we will be able to continue with raises and benefits at or above our present levels. If others are elected we will not.
As always who you vote for is completely your personal decision and many factors go into your decision.
The following candidates are the ones we believe will help our business move forward.
John Kasich for Governor
Rob Portman for Senate
Jim Renacci for Congress
Add a Comment
Please
log in
to post a comment