I Can Has Petrified Cheezburger?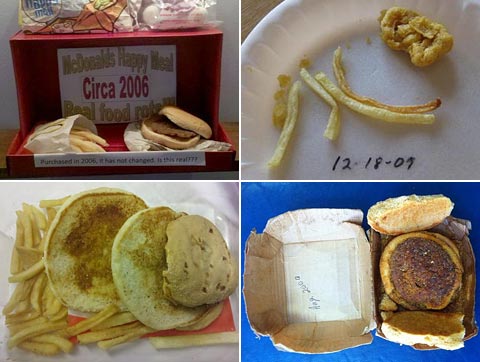 As a Responsible Journalist, we're obligated to say that these examples of months-old — and years-old — McDonald's products that defy rot constitute purely anecdotal evidence of the company's superior manufacuring techniques, and by no means demonstrate with scientific certainty that they will bury you.
For that matter, in the interest of full disclosure, we once accidentally left a bagel out, and within a week it had become a hardened weapon, leaving a dent in the wall as it shattered on impact.
Happily, an enterprising geek has decided to put the Urban Legend to the test — as well as your attention span:
[ Flash video not available. ]
Behold! The Rotting Cheeseburger Webcam!
Story of 6-month-old Happy Meal reveals many other McDonald's hoarders [Yahoo]
Add a Comment
Please
log in
to post a comment