Brave Tennessee Firefighters Uphold Libertarian Values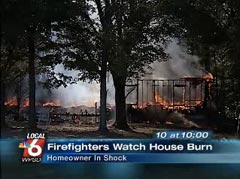 Finally, a real-life example of a Libertarian talking point:
Imagine your home catches fire but the local fire department won't respond, then watches it burn. That's exactly what happened to a local family tonight…

The homeowner, Gene Cranick, said he offered to pay whatever it would take for firefighters to put out the flames, but was told it was too late. They wouldn't do anything to stop his house from burning.

Each year, Obion County residents must pay $75 if they want fire protection from the city of South Fulton. But the Cranicks did not pay.

The mayor said if homeowners don't pay, they're out of luck.
Damn straight. Why should freeloaders get the benefit of emergency services?
Just ask Cranick's neighbor. When the fire crossed the property line, the firefighters leaped into action. After all, the neighbor had paid up.
Add a Comment
Please
log in
to post a comment