A Long Post on a Short Subject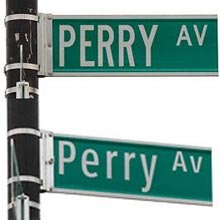 Let's start with the news, which both the NY Post and the Daily News saw fit to fuss over yesterday. We'll go with Rupert this round, because we like his photo better:
Federal copy editors are demanding the city change its 250,900 street signs — such as these for Perry Avenue in The Bronx — from the all-caps style used for more than a century to ones that capitalize only the first letters.

Changing BROADWAY to Broadway will save lives, the Federal Highway Administration contends in its updated Manual on Uniform Traffic Control Devices, citing improved readability.

At $110 per sign, it will also cost the state $27.6 million, city officials said.
The Post story is actually quite calm, compared to its rival:
Still, several city residents were OUTRAGED.

"That's ridiculous," said James Sullivan, 34, a bike messenger from Queens. "They might as well just burn the damn money."

Construction worker Joseph Cain, 49, of Manhattan, reacted with sarcasm, saying, "I see my tax dollars are hard at work."
As it happens, the news isn't new — the FHA passed the new rules in 2003. For that matter, local governments have until 2018 to comply — and since NYC replaces 8,000 signs annually anyway, it's not clear that the requirement adds anything to budgets.
But, back at Rupert's story, here's what really caught our attention:
Studies have shown that it is harder to read all-caps signs, and those extra milliseconds spent staring away from the road have been shown to increase the likelihood of accidents, particularly among older drivers, federal documents say.
We did a fair amount of radio in one of our past lives, and one thing we never understood was the habit of typing news copy in ALL CAPS. We don't know whether it was a carryover from newswire printouts, BUT NOT ONLY DOES IT SEEM LIKE THE AP IS SHOUTING THE WEATHER FORECAST AT YOU, IT'S DAMN HARD TO READ WHEN IT CONTINUES FOR A COUPLE HUNDRED WORDS.
Why is this? Visual familiarity: We don't read letters — we read words. And, over time, we get so good at it that we read the shapes of words. All those ascenders and descenders give words a character that's lost when they're overly standardized. Our hunch is that the familiarity is also what makes typos so easy to overlook: the shape's close enough to get the communicative job done.
Which brings us to that photo: Seemingly contrary to what we just said, PERRY is actually easier to read than Perry. Part of the problem is that the lower sign doesn't say Perry but P e r r y, which defeats the purpose of familiarity — we don't typically read words s p a c e d o u t like that.
But the intersection near Stinque World Domination Headquarters also has one sign in caps, the other lower-case — and as we walked toward them yesterday afternoon, we definitely found the caps sign much easier to read at a distance, even though the other is kerned properly.
We don't have a major traffic study to back us up, however, and your anecdotal evidence may vary. But here's our hunch: text on highway signs, and the green backlit signs often found above traffic lights at major intersections, is much better in lower-case. But the smaller signs on streetcorners? If it takes us a second more to figure them out as we're driving past, that's defeating the purpose.
A note to our readers: The author was seriously disturbed by Thursday's thunderstorms in San Diego, and appears to think he's writing for Andy Rooney, or worse, NPR. We apologize for any outbreak of somnambulance among our patrons.
New Yorkers outraged as bureaucrats order city to change lettering on every single street sign [Daily News]
Add a Comment
Please
log in
to post a comment