I, Chickenhawk

A few months ago, the second anniversary of our Accidental Blogging happened to coincide with "Everybody Draw Mohammed Day", so we outfitted our customary Joyride Jalopy with a special guest from South Park. Which is about all the attention we paid to the event at the time, except to note a few weeks earlier that the event's instigator had chickened out.
And now she has — let's capitalize this — Disappeared:
[Molly Norris] is alive and well, thankfully. But on the insistence of top security specialists at the FBI, she is, as they put it, "going ghost": moving, changing her name, and essentially wiping away her identity. She will no longer be publishing cartoons in our paper or in City Arts magazine, where she has been a regular contributor. She is, in effect, being put into a witness-protection program — except, as she notes, without the government picking up the tab. It's all because of the appalling fatwa issued against her this summer, following her infamous "Everybody Draw Mohammed Day" cartoon.
Whoa. We're gonna need to retrace a few steps here.
But first, about that fatwa: It was published in June by Anwar al-Awlaki, better known as the spiritual adviser to the Fort Hood shooter and Underwear Bomber, and more recently as the U.S. citizen whom the Progressive Obama Administration wants to kill in cold blood. Which explains why the FBI is taking it seriously.
And how did a Seattle cartoonist come to the attention of a Yemen-based terrorist? Well, it's not entirely her fault. She just did her job too well.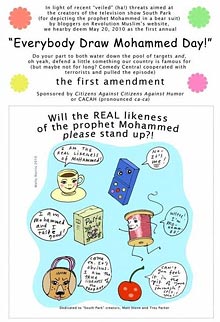 Last spring, South Park revisited the issue of depicting Mohammed over two episodes, and Comedy Central censored the gag, as it had previously. So Norris published her cartoon in response, declaring and dating "Everybody Draw Muhammad Day" as part of her own satire — not as an event she was seriously promoting.
"As a cartoonist, I just felt so much passion about what had happened," she told a Seattle radio station. "It's a cartoonist's job to be non-PC."
Norris obviously wasn't above getting some local coverage for her work. But from what we can tell, she wasn't expecting it to go viral. She didn't launch the very popular Facebook groups — also now Disappeared — that took up the cause.
And she certainly didn't expect to provoke the kind of reaction that led Comedy Central to censor Mohammed depictions in the first place.
But maybe she should have.
We indulge in the occasional fanciful satire ourself, and we publish the even more fanciful satire of others. We've been doing this off and on, in one form or another, for thirty years. When we did it in college, the local newspaper editorialized against us, back when that meant something. Our dad was highly displeased.
But satire ain't beanbag. Done right, it's a serious moral argument, masquerading as outrageous comedy. If you're going to make that argument — especially if you aim high — you damn well better own it.
That said, nobody's ever issued a fatwa against us. We haven't had the FBI advise us to change our name and skip town. (Although frankly, our ridiculously common name guarantees us a fair degree of anonymity as it is.) We'd like to think that if we wrote something really vicious — and really funny — we'd put on our Man Pants and stand by it.
We're just lucky it hasn't happened yet.
Add a Comment
Please
log in
to post a comment