Praise the Lord and Pass the Zyklon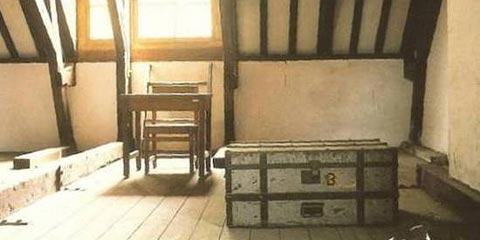 We're not going to trawl through all those Christine O'Donnell Politically Incorrect appearances that TPM dredged up, but God bless ThinkProgress for doing the heavy lifting. Let's join a 1998 conversation with Bill Maher and Eddie Izzard about the morality of lying, already in progress…
O'DONNELL: A lie, whether it be a lie or an exaggeration, is disrespect to whoever you're exaggerating or lying to, because it's not respecting reality.

MAHER: Quite the opposite, it can be respect.

IZZARD: What if someone comes to you in the middle of the Second World War and says, "do you have any Jewish people in your house?" and you do have them. That would be a lie. That would be disrespectful to Hitler.

O'DONNELL: I believe if I were in that situation, God would provide a way to do the right thing righteously. I believe that!

MAHER: God is not there. Hitler's there and you're there.

O'DONNELL: You never have to practice deception. God always provides a way out.
God certainly provided a way out for about six million of His children, while helpfully providing a more convenient way out for Pope Pius. And, if we're lucky, God will take pity on America and provide us a way out of the hellhole we're creating in His name.
Add a Comment
Please
log in
to post a comment