Asshole Wins Karma Lottery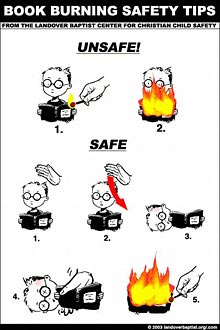 All Derek Fenton wanted was to exercise his God-given right to trash somebody else's God. But he hadn't planned on making himself a martyr:
The protester who burned pages from the Koran outside a planned mosque near Ground Zero has been fired from NJTransit, sources and authorities said Tuesday.

Derek Fenton's 11-year career at the agency came to an abrupt halt Monday after photographs of him ripping pages from the Muslim holy book and setting them ablaze appeared in newspapers…

"Mr. Fenton's public actions violated New Jersey Transit's code of ethics," an agency statement said.
While a New Jersey "code of ethics" amuses us to no end, and we're more than pleased to see a jerk get jerked, we're actually mildly concerned: There's nothing illegal about torching scripture, and the apparent principle invoked could work both ways.
But Derek's a big boy — he can always call his local ACLU office, which we're sure someone like him has always held in the hightest esteem.
Image: Landover Baptist Church
Add a Comment
Please
log in
to post a comment