Fontasyland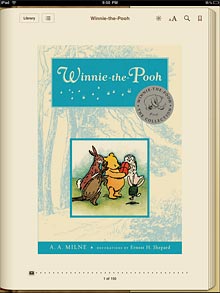 Having designed a fair amount of publications over the years —books, magazines, tabloids — we know a thing or three about fonts. Not just display fonts — someone once dared us to find a legitimate use for Comic Sans — but much more importantly, text fonts, the stuff you actually read. Especially if you're reading at length.
It's not a question of "readability" as such, but of — pardon the pun — character. Set a given piece in twelve different fonts, and it'll read in twelve different voices. Some fonts resist their material. Some will make you read too fast for the purpose, or too slow. (We recently set a technogeek thriller in Times New Roman, because that was the only font that made sense for a page-turner. Newspaper fonts are designed for skimming, and that book demanded to be skimmed.)
What you're looking for — especially if you're setting a book — is a font that becomes "invisible" to the text, a font that lets you read without thinking about reading. It's a craft, not a science. It takes judgment, and a good eye.
And it's why a lot of books suck. They weren't born bad. They were set that way.
We haven't played with a Kindle, but the iPad Books app is a good start toward a decent e-reader — better since Apple provided a text-justification option, and better still once they provide more fonts to play with, or the option to supply our own. Trust us, Edward Gibbon does not want to be read in Verdana, but he'll settle for Georgia right now.
On the other hand, Jonah Lehrer, writing for Wired (of course), gets it all wrong:
I do have a nagging problem with the merger of screens and sentences. My problem is that consumer technology moves in a single direction: It's constantly making it easier for us to perceive the content…

Familiar sentences printed in Helvetica and rendered on lucid e-ink screens are read quickly and effortlessly. Meanwhile, unusual sentences with complex clauses and smudged ink tend to require more conscious effort, which leads to more activation in the [brain's] dorsal pathway. All the extra work — the slight cognitive frisson of having to decipher the words — wakes us up.

So here's my wish for e-readers. I'd love them to include a feature that allows us to undo their ease, to make the act of reading just a little bit more difficult. Perhaps we need to alter the fonts, or reduce the contrast, or invert the monochrome color scheme. Our eyes will need to struggle, and we'll certainly read slower, but that's the point: Only then will we process the text a little less unconsciously, with less reliance on the ventral pathway. We won't just scan the words — we will contemplate their meaning.
Well, no. Or not quite. Yes, Faulkner's rivers of sentences rendered in Helvetica would be an abomination. For that matter, Faulker rendered in Times would be way too breezy. But like we say, some fonts encourage dwelling instead of rushing — savoring, if you will — and we're sure our tested practice of trying a dozen alternatives would yield something appropriate.
Lehrer doesn't need a Derangement Function on his Kindle — he just needs an ample selection of voices for the books he reads. Then again, reasonable solutions to practical problems don't get you a byline in Wired.
Add a Comment
Please
log in
to post a comment