Jaws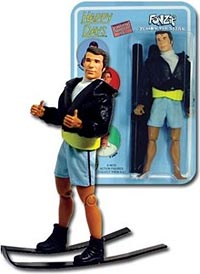 Fred Fox Jr., writer of the immortal (as in zombie) Happy Days "Jump the Shark" episode (officially known as "Hollywood 3"), would like to defend his honor:
Which brings us to the question: Was the "Hollywood 3" episode of "Happy Days" deserving of its fate?

No, it wasn't. All successful shows eventually start to decline, but this was not "Happy Days'" time. Consider: It was the 91st episode and the fifth season. If this was really the beginning of a downward spiral, why did the show stay on the air for six more seasons and shoot an additional 164 episodes? Why did we rank among the Top 25 in five of those six seasons?
Well, since you ask…
Fonzie jumped the shark on September 20, 1977. In an era with three networks, no cable channels, no VCR, and no videogames, here was the alternative Tuesday-night programming from 1977 through 1982:
The Fitzpatricks, The Richard Pryor Show, The Paper Chase, Grandpa Goes to Washington, California Fever, The Misadventures of Sheriff Lobo, The White Shadow, Simon and Simon, Bring 'Em Back Alive, and Father Murphy.
By the end of the 1982-83 season, against such withering competition, Happy Days still ranked a respectable 28th. But that fall, it dropped to 55th place. What happened?
NBC ran fourth-ranked The A-Team against it. Fool, pitied.
Still, after being beaten down by Diana Ross's former bodyguard, Fox bounced back:
Fortunately, my career didn't jump the shark after "jump the shark." When "Happy Days" ended, I went directly to the ABC Paramount hit show "Webster" and, after that, wrote and produced, among others, "It's Your Move," "He's the Mayor," "The New Leave It to Beaver" and "Family Matters." In 1987, Brian Levant and I created the action comedy "My Secret Identity," which won an International Emmy.
If that's what he's proud of, we shudder to think what "among others" amounts to.
Which brings us to the question: Was Fred Fox Jr. deserving of his fate?
No.
A journeyman Hollywood hack, Fox should have remained in well-deserved obscurity for the crap he dispensed to the American viewing public. But thanks to some dudes at the University of Michigan getting wasted while watching Nick at Nite in 1987, Fox will always be known for inspiring the One Meme That Ruled Them All.
Add a Comment
Please
log in
to post a comment