The Jokes, They Just Write Themselves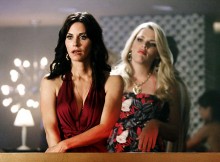 It's been a long day, a long week, a long month, and a long fucking summer and year for your correspondent SFL.
The drumbeat of sad news stories, Sarah Palin mosque antics, Glen BecKKK rallies, and rising unemployment has totally harshed my mellow, and not even Sheryll the Dog is cheering me up.
So when I saw this headline tonight on the San Francisco Chronicle's website, I had to laugh because the joke just wrote itself.
Cougar killed near Berkeley's Gourmet Ghetto
I expect a full on-the-spot report from our East Bay correspondent, Walking Still, but here's what the Chronic had to say:
Berkeley police shot and killed a mountain lion early Tuesday as it roamed a neighborhood around the city's world-famous Gourmet Ghetto for at least an hour, leaping over fences from one backyard to another.

Three officers shot and killed the 100-pound adult female with rifles and a shotgun shortly before 3:30 a.m. outside a home on the 1600 block of Walnut Street, just blocks from Chez Panisse restaurant, the flagship Peet's Coffee store, the Cheese Board Collective and other businesses along busy Shattuck Avenue in North Berkeley.

[….]Two officers with .223-caliber rifles shot the lion, but it's unclear whether they hit the cat. The mountain lion then moved into an adjoining backyard, where a third officer with a shotgun killed it.

[….]
Update: Deletions per management. Clique the linque for full story.
Add a Comment
Please
log in
to post a comment