If You Didn't Want Our Help, Why Didn't You Stop Our Invasion?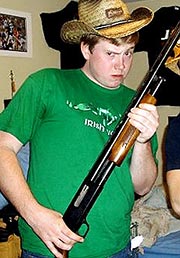 Alleged cabbie-slasher Michael Enright, besides having a problem holding his liquor, also had a problem holding his bile:
Enright, a senior at the School of Visual Arts in Manhattan, returned from Afghanistan in May after 35 days of filming a documentary about front-line troops.

When he was arrested Tuesday in midtown, Enright had a personal diary filled with pages of "pretty strong anti-Muslim comments," a police source said.

The source said Enright's journal equated Muslims with "killers, ungrateful for the help they were being offered, filthy murderers without a conscience."
Quite honestly, there might be a (non-absolving) case of PTSD at work — we send kids to war all the time, but usually we train them first.
On the other hand, invading countries and calling their citizens ingrates for all the liberating death and destruction we wreak upon them seems to be a habit of our glorious nation.
Add a Comment
Please
log in
to post a comment