How Not to Disclaim Responsibility for an Entirely Coincidental Attack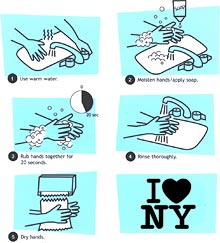 So, you're the demagogic leader of a national campaign protesting a local zoning decision, and somebody slashes a cabbie for worshiping the wrong deity. Do you…
(a) Keep yer piehole shut.
(b) Issue a brief statement proclaiming your peaceful intentions and condemning all violence.
(c) Accuse your opponents of staging the hit.
If you answered (c), welcome to Stinque, Pam Geller! Thanks for dropping by!
And if you're unfamiliar with Ms. Geller, you should be: She's the Orly Taitz of anti-muslim bigotry. Her website Atlas Shrugs is Ground Zero of the Not-Mosque protest. But unlike Orly, nobody is laughing Pam out of the room. Yet:
SET UP TO LYNCH GROUND ZERO OPPOSITION: MUSLIM CAB SLASHER WORKED FOR CORDOBA/PARK 51

How deranged is the left? The slasher of Muslims works for the Cordoba/Park 51. This is what is building an Islamic supremacist mosque on Ground Zero. The only reason we know who this human filth is and who he worked for because of the brave and brilliant cab driver who, despite being slashed multiple times, locked this savage in the back of his cab.
Okay, small problem: Alleged Human Filth (no argument here) Michael Enright was a volunteer for interfaith organization Intersections International, not an employee of the Not-Mosque developer. Intersections does support the Not-Mosque, but from the sidelines — just like Michael Bloomberg! (And us!)
Can you imagine if the would be Cordoba murderer got away. They would be hanging us in the public square as we speak.
Got us there. Although strictly speaking, we've never called for anything stronger than a pillory. Okay, fine: with urination. By horny cats. Still, we think that falls within American standards of civility these days.
Unlike, say, this:
Clearly this leftwing loon hoped to slash this poor man in pieces, get away, and have the opposition blamed for this heinous and vile crime. This is how low the mentally ill left will go.
Clearly. Really, there's no other possible explanation. It's just like crashing a teabagger rally — but with a knife! What leftwing loon wouldn't sacrifice himself to the anti-bigotry cause like that?
It's no wonder the leftwing mainstream media is shushing up this story.And the Islamic supremacist, Hams funder CAIR blasted it in their alert. Their whiteash will be interesting tomorow. I wouldn't be surprised if CAIR had a hand in it …………. the CAIR offices are right nextdoor  to Imam Rauf's and Daisy the Con's offices n Riverside. How convenient.
In case you missed the insinuation in all that, let's make it clear:
Pam Geller, leader of the Ground Zero Mosque protest, suggests that the Council on American-Islamic Relations set up Michael Enright to stab a New York cabdriver.
Now, just lead all newscasts with that today, and we promise you the Not Ground Zero Not Mosque controversy will be gone tomorrow.
Add a Comment
Please
log in
to post a comment