The WorldNetDaily As We Found It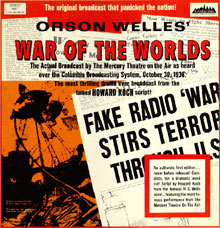 WorldNetDaily, 1 am Thursday:
Al Gore says climate battle lost by 'failure' of government
Also blames 'right-wing' media and pushes global-warming alarmists to demand coverage

Ex–Vice President Al Gore, who has invested heavily in schemes that would give him profits from climate-related energy credits and carbon-emissions trading, is lamenting bitterly the "failure" of the government that means there probably won't be comprehensive legislation taxing energy use and emissions right now.

And he's blaming "right-wing" media, whose reports documented "Climategate," the revelations of global-warming scientists that made it appear they were manipulating results and shutting out critics, for that failure.
WorldNetDaily, 9:45 pm Thursday:
U.S. warned of threat worse than Katrina, plague, WWII
Millions could die: 'This is clearly not something you ever want to experience'

More horrifying than the plague of Black Death across Europe. More costly in lives than World War II. Financially it could make the Katrina repairs look like a pocketful of change. And it's not a matter of if, but when.

That's the alarming warning being issued by John G. Kappenman, owner of Storm Analysis Consultants and an expert of the dangers of electromagnetic pulse damage to modern society, with a list of qualifications after his name as long as a phone book.
Add a Comment
Please
log in
to post a comment