Prop. 8 Stay Lifted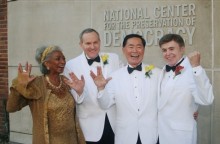 Judge Vaughn Walker of the Northern District of California lifted his temporary stay of his decision last week that ruled that Prop. 8 was unconstitutional.  The stay will be lifted as of August 18 at 5 pm. Gay and lesbian couples had been lined up since early this morning at City Hall in San Francisco and Santa Cruz in anticipation of the announcement that the temporary stay would be lifted.
Chambers of commerce, event planners, caterers, restaurants, and hotels in California's most beautiful and beloved locales let out a big sigh of relief at the thought of the money to be spent by gays and their guests at local nuptials.
Right wingers had their talking points lined up since early this morning about how heterosexual marriage will be destroyed by this lifting of the stay by the evil homosekshual San Francisco judge.  A handful of Yes on 8 supporters were outside San Francisco City Hall along with those waiting to get married, and their fashion choices demonstrated how desperately they're in need of gay assistance.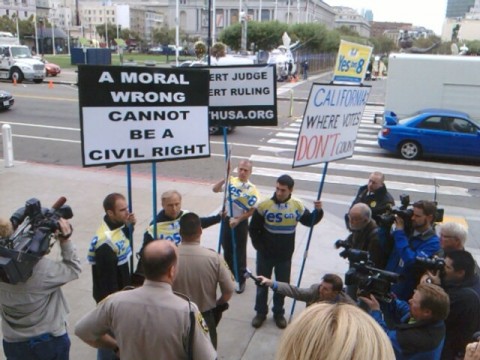 Bibs out of signs? For real? Well, it was a little drizzly this morning, so it will keep them dry.
Tommcatt, let me know when you want to come to EssEff and have me do the honors for you and Mr. Catt.
Compare the four H8ers with the queue of people for licenses: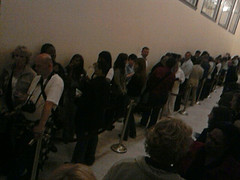 Joe.My.God. has a live feed of the crowd at City Hall.
Stinque Legal Eagle DodgerBlue tells me that no doubt the H8ers will be running over to the 9th Circuit [SFL editor's note: located about five blocks away, through the (ha!) prettiest part of the Tenderloin and mid-Market area] to get an emergency stay, so the window of marriage (if any after the 18th) may be small for the gheyz if the 9th grants the stay.
UPDATE:
Photo of the response of couples waiting at City Hall to the news the stay was lifted.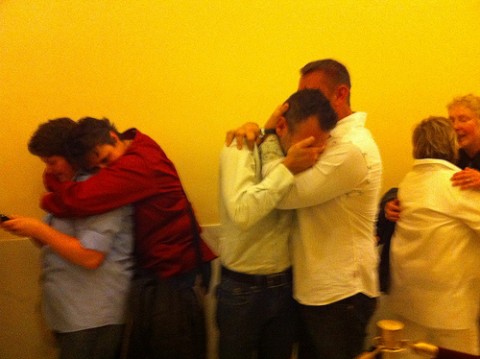 Add a Comment
Please
log in
to post a comment