Join the Coffee Achievers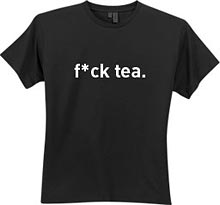 We think we're supposed to get a partisan giggle out of the new line of F*ck Tea products:
"We will be launching new products in the next several months to help people all over the country F*ck Tea," [Agenda Project founder Erica] Payne told Politico. "Products like a Glenn Beck Bowl Buddy (Beck B Scrubbin) and others are perfect holiday gifts or just a great way to say, 'I love you and our country' to your spouse, friend or family."
Problem is, once the actual folks started using "teabagger" to identify themselves, the game was over.
And even if we grant the point, what's with the asterisk? Fucking wimps.
Add a Comment
Please
log in
to post a comment