Take This Job and Shove It
Yesterday at the gym I read the latest David Sedaris piece in The New Yorker, all about flying in America. My favorite line, which the fashionistas can appreciate, was in regard to how most people dress for flying, and along the lines of: "It's as if they were all cleaning grease off a pig, stood up and said, 'Fuck it, I'm going to LA.'"  Sedaris writes about how flight attendants have told him how they get back at disruly and annoying passengers by walking down the center aisle letting out silent but deadly farts.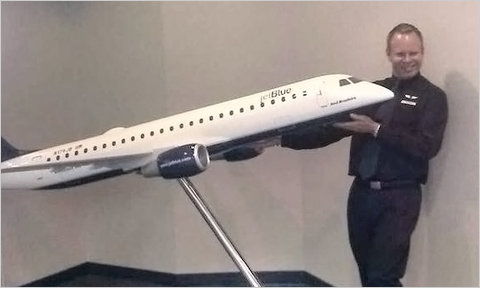 That's just child's play. Steven Slater, a flight attendant with Jet Blue pictured in the above photo, has taken bitchy queen snappiness to a whole new level.
The drama happened as a flight from Pittsburgh landed at JFK around noon, and was taxiing to the gate.  According to witnesses, one passenger ignored the "Stay seated with your seatbelt on until we are parked at the gate" instruction and got out of his seat and started getting his stuff out of the overhead compartment.  Slater told the man to sit down, which the passenger ignored. Slater got up and approached the passenger as he pulled his carry-on down and the suitcase struck Slater in the head.
Slater asked for an apology, and the passenger cursed him out instead. Slater got on the PA system, cursed out everyone on the plane, went to the exit door and activated the evacuation slide and launched himself off the plane, ran to the employee parking lot, got in his car, and drove home, where he was later arrested.
This guy is the hero of the millions of people who work in the service industry and have been snapped at, cursed, groped, or otherwise humiliated and degraded by customers.
My favorite part of the New York Times account was that Slater serves as the chairman of JetBlue's uniform redesign team.
UPDATE:
The longer New York Times article adds the details that Slater grabbed a beer from the beverage cart before going down the slide, and was smiling when the cops took him out of his house. If this guy isn't on Letterman or Jon Stewart in the next two weeks, I'll be shocked.
Add a Comment
Please
log in
to post a comment