Orly's $20,000 Pyramid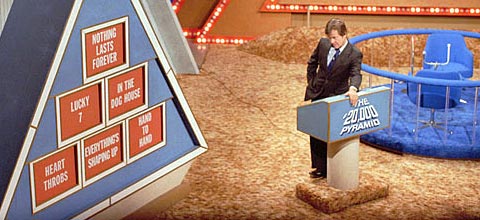 Orly Taitz, whose role in our civic life appears to be making Michele Bachmann look reasonable, is a deadbeat.
You may recall — and really, who could forget? — that America's Most Frightening Dentist owes The Citizens of These United States a cool twenty grand because of a Vast Judicial Conspiracy designed to thwart her efforts to remove the Schvartze Usurper from the Baila House.
Well, it turns out — we hope you're sitting down — she hasn't paid yet.
Oh, she's fought it. She appealed the original fine to the Court of Appeals. Which denied her. She appealed the Court of Appeals denial to the Supreme Court. Which denied her. And now she's appealing the Supreme Court denial to—
Wait, who's left?
On July 20, Taitz posted a motion requesting that she be allowed to verify that it is, in fact, [Clarence] Thomas' signature on the denial of her application. She's also sent her request for stay to Justice Samuel Alito, though she said a clerk told her it had been returned because of a small technical issue.

"So, they're playing a new game," Taitz said Wednesday. "This cannot happen in the Supreme Court of the United States."…

Taitz said she's filed a motion with Chief Justice John Roberts asking that Thomas' signature be verified. She's also filed a complaint with the U.S. Department of Justice, she said.
Yes, we're sure Attorney General Holder will get right on it. Or whoever's left in the building after the entire department recuses themselves for lack of authority.
Add a Comment
Please
log in
to post a comment