This… Means… War.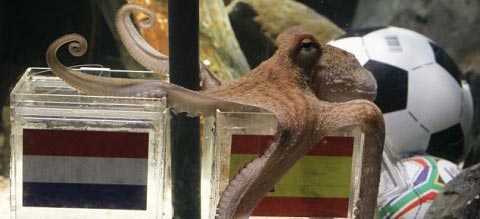 Mahmoud Ahmadinejad has a bone to pick with Stinque's boneless Golden Vuvuzela champion:
The Iranian president accused the octopus of spreading "western propaganda and superstition." Paul was mentioned by Mr Ahmadinejad on various occasions during a speech in Tehran at the weekend.

"Those who believe in this type of thing cannot be the leaders of the global nations that aspire, like Iran, to human perfection, basing themselves in the love of all sacred values," he said.
Next week: Ahmadinejad decries the decrepit Western values of Punxsutawney Phil.
Add a Comment
Please
log in
to post a comment