Opportunists Are Standing By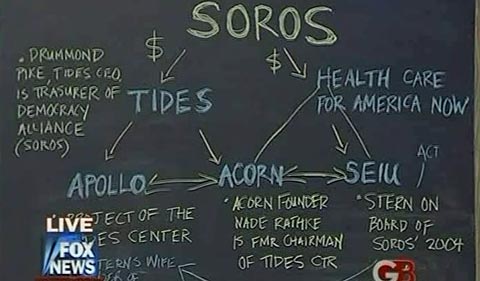 Hey, ever hear of the Tides Foundation? Neither have we!
Okay, fine, some of you have. Everybody who's an activist — leave the room.
All gone? Good.
Truth be told, we have heard of them, but it's a name that only crosses our path every two or three years — or only slightly more frequently than we've heard "Saul Alinsky" since a boring polisci class some thirty years ago.
Until last year, of course, when wingnuts made "Rules for Radicals" an Amazon bestseller.
So we've found it more than a little odd that Byron Williams was heading for the ACLU and the Tides Foundation when he got into a little exchange of Second Amendment Remedies with CHP on the 580 Saturday night. Like, dude, you're going after a soap company? What's up with that?
Or, to put it another way: If we, an advanced-degree Left Coast libtard who recently had to drop our NYRB subscription to help pay for our iPad, don't know our Tides from our Surfrider from our Ducks Unlimited, how the hell is Williams so hip?
Unless — no, wait, let us guess…
If you haven't heard of Tides, a standard-issue lefty foundation that's been around since the 1970s, it probably means you don't watch the Glenn Beck program. It turns out that Beck rails against Tides constantly on his program — roughly weekly, according to our search of his show transcripts. That includes two shows less than a week before the July 18 shooting. Tides frequently appears on Beck's famous blackboard renderings of who is pulling the strings of the Obama administration and the liberal media.
We pulled that from Salon, which, being Big, tries to be Respectable:
No one's saying that Beck is advocating violence or that anyone who watches Fox will be whipped up into a frenzy to hunt out left-wingers.
Ummm, actually, the blogger who broke the story for you is saying pretty much that.
And so are we.
Bernie Goldberg has his James Adkisson. Bill O'Reilly has his Scott Roeder. Where's Beck's pet murderer? You can't join the club until you have a notch on your microphone.
Yes, yes, we know: There are always a few nutjobs in the audience, and you just can't control them. But when your sole purpose is to slander your political opponents with conspiracy and treason, what do you expect your viewers to do?
Because there's a term for that in advertising. It's called asking for the order.
Why Did California Shooter Target the Tides Foundation? [dagblog]
Add a Comment
Please
log in
to post a comment