My State Rock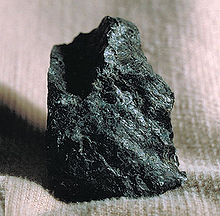 California Sen. Gloria Romero (D-El Ay), with the backing of an asbestos awareness organization funded by asbestos attorneys, is sponsoring S.B. 624, a bill that would remove serpentine's designation as California's state rock.
And geologists, a usually mild-mannered bunch who only get riled up about whether the Hayward or San Andreas Fault is going to rupture first, and if the State Earthquake Map accurately reflects the risk of that fault east of Sandy Eggo sliding another 10 feet, are fighting back.
Geologists rock!
What did serpentine ever do to deserve the hate? The Wiki describes this greenish rock as:
"a group of common rock-forming hydrous magnesium iron phyllosilicate ((Mg, Fe)3Si2O5(OH)4) minerals; they may contain minor amounts of other elements including chromium, manganese, cobalt and nickel. In mineralogy and gemology, serpentine may refer to any of 20 varieties belonging to the serpentine group. Owing to admixture, these varieties are not always easy to individualize, and distinctions are not usually made. There are three important mineral polymorphs of serpentine: antigorite, chrysotile and lizardite.

Many types of serpentine have been used for jewellery and hardstone carving."
I have no idea what the first paragraph means, I understand the second.
But here's where things get interesting. As the scientists tipped off the Sacramento Bee state politics columnist last week:
The bill flatly declares that "serpentine contains the deadly mineral chrysotile asbestos, a known carcinogen, exposure to which increases the risk of the cancer mesothelioma (and) California has the highest rate of mesothelioma deaths in the nation."

SB 624 cleared the Senate on a 36-0 vote on May 18, but at that stage it merely defined "anaerobic digestion," referring to composting. One day later, Romero removed its contents and replaced them with the serpentine provisions, a maneuver commonly used to slip something through with minimal notice.

Romero's office says the language originated with the Asbestos Disease Awareness Organization, an anti-asbestos group whose major sponsors are law firms specializing in asbestos litigation. Asbestos litigators and Consumer Attorneys of California are backing the bill. Eric Bailey, a spokesman for the group, says the bill is a "symbolic measure to correct this historic mistake."

The problem with SB 624 is that it flatly equates serpentine with deadly asbestos even though geologists say that's incorrect. Geology websites have been buzzing with the criticism, pointing out that while serpentine rocks may contain chrysotile, most do not.

Were SB 624 to become law, declaring serpentine as carcinogenic, it could widen the opportunities for lawsuits against owners of property with naturally occurring outcroppings of serpentine.
The Gray Lady has even taken notice, with a front page article in Wednesday's paper quoting a retired federal geologist laughing at the state:
"There is no way anyone is going to get bothered by casual exposure to that kind of rock," said Malcolm Ross, a geologist who retired from the United States Geological Survey in 1995. "Unless they were breaking it up with a sledgehammer year after year."

Dr. Ross and other opponents of the bill are concerned that removing serpentine, which is occasionally used in jewelry, as the state's rock would demonize it and thus inspire litigation against museums, property owners and other sites where the rocks sit.
Add a Comment
Please
log in
to post a comment