Fuck 'Em All, Let God Sort It Out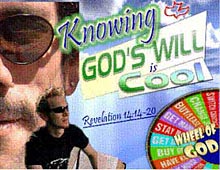 Sharron Angle would like you to know that rape is just God's way of telling you it's time to step up and take some responsibility:
MANDERS: Is there any reason at all for an abortion?

ANGLE: Not in my book.

MANDERS: So, in other words, rape and incest would not be something?

ANGLE: You know, I'm a Christian, and I believe that God has a plan and a purpose for each one of our lives and that he can intercede in all kinds of situations and we need to have a little faith in many things.
Good to know. The next time Angle is the victim of a violent assault, we'll celebrate the occasion as Divine Intervention.
Add a Comment
Please
log in
to post a comment