Forgive Us, BP, For We Have Sinned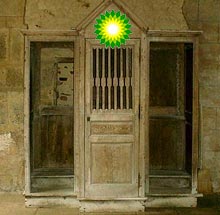 Time was when Republicans would criticize the President for kowtowing to foreign heads of state. Now we're learning that the problem wasn't the action, but the recipient:
Rep. Joe Barton , R-Arlington, apologized to BP CEO Tony Hayward on Thursday morning for the "political pressure" his company is facing.

Barton condemned the White House's handling of a meeting Wednesday with BP officials, in which President Barack Obama pushed the company to create a $20 billion escrow account for damage claims from the Gulf of Mexico oil spill. The congressman called the account a "slush fund."…

"I am ashamed of what happened at the White House yesterday," said Barton, the top Republican on the [House Energy and Commerce] committee. "It is a tragedy in the first proportion that a private corporation can be subjected to what I would characterize as a shakedown — in this case a $20 billion shakedown."
Other genuflectors lining up at BP's confessional include Michele Bachmann, Haley Barbour, the wingnut "Republican Study Committee", Rush Limbaugh, and Sean Hannity. We're not sure how the spin works on this one, but we imagine it requires a lot of grease.
Say What? GOPers Slam White House Over BP Gulf Spill Fund [TPM]
Add a Comment
Please
log in
to post a comment