Ay Caramba! Upset World Cup Hottie of the Day
Highly favored Spain (though they *did* lose to the US of A a few months ago, thus calling their dominance into question) lost today to lowly Switzerland in a 1-0 upset. The second half of the Spain-Switzerland game is one for the ages as the Spaniards launched an all-out offensive assault and the implacable Swiss batted them away.
While the too-easy and obvious choice for tonight's Stinque World Cup Hottie of the Day would be the adorable Gelson Fernandes, the Cape Verdean immigrant to Switzerland, the Stinque Department of Lady-Bits and Soccer Correspondents must instead award the honor to a member of the Spanish team who played his heart out today.
Oh, and he posed for naughty-pants B&W photos.
Sergio Ramos, all hundreds of pixels of him, after the jump.
Sergio at a press conference: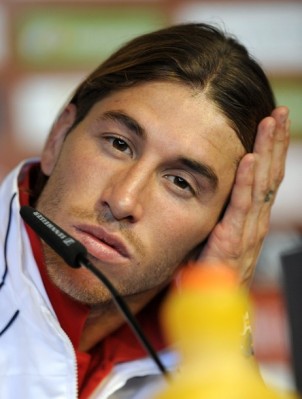 And here he is playing with the crazy thing holding his hair back, almost scoring a goal:

Oh and here he is in shirtless glory:
Back to Sport, Spain really will need to step it up to survive to the next round.
Set your office Outlook appointment scheduler for tomorrow's big match between Mexico and France. 11 am Lefty time, 2 pm EDT. I have no idea what that is in Nabeesko time. Watch it streaming live on Univision at http:/futbol.univision.com
Oh, and gheyz and girls, I discovered a fabulous blog I wish I had created, called Kickette.
Add a Comment
Please
log in
to post a comment