About Time …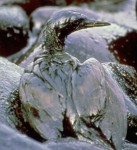 Anyone responsible, civilly or criminally, should be bankrupted and banished from polite society:
Oil firm BP "manipulated" the Bush administration into softening regulation of oil drilling, leading to the environmental disaster unfolding in the Gulf of Mexico, a lawsuit filed in a Florida courtroom alleges.
…
An inspector-general's report earlier this year indicated that the federal agency charged with overseeing oil reserves, the Minerals Management Service, largely failed to live up to the most minimal expectations of it. The report showed the MMS to have allowed oil companies to fill in their own inspection reports, and at least one MMS inspector had admitted to a methamphetamine addiction that caused him to be high while carrying out inspections.
The report also found that, from 2005 to 2007, MMS inspectors accepted numerous gifts, including meals and tickets to sporting events, from at least one oil company.
The RICO claims might be shit, but we should sue them under any theory available and let "justice" sort it out.
Add a Comment
Please
log in
to post a comment