An Evening with Bill O'Reilly and Sarah Palin (Oh, joy!)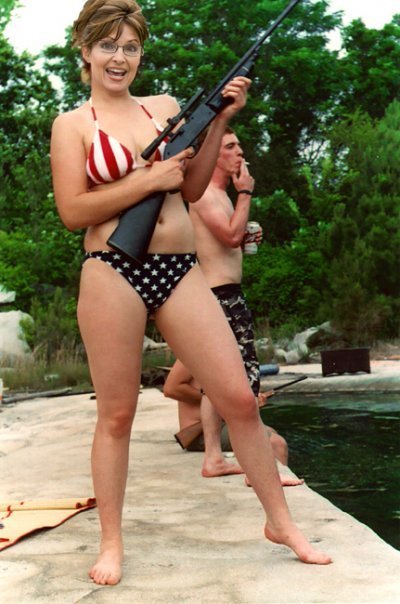 Q: What's thicker than the orange sludge that's killing sea-life and washing up on Louisiana shores these days?
A: The nonsensical bullshit spewing from half-term Alaska governor Sarah Palin's mouth when she's invited to give her analysis of the President's recent address to the nation on the BP oil spill.
Indeed, you've got to be pretty hopeless if you show up on O'Reilly's program to slam the president and the host makes you look like an idiot by tossing you a few softball questions and watching as you swing wildly and strike on every one.
Palin begins her absurd denunciation of the president's speech with a rambling disjointed and often contradictory series of thoughts that makes the typical Mad Lib seem a model of insight, clarity and coherence by comparison:
"President Obama is wrong on his call for a need for energy policy, certainly we need that but he is wrong not to acknowledge that we still need, on a three legged stool conventional sources of energy to be drilled here, otherwise, Bill, we are going to be brought to our knees in bowing to the Saudis and Venezuela and places like Russia that will keep producing oil, Bill, and, uh, Petroleum products, and we will have to ask them to produce for us because we will still be dependent upon the sources of energy, in addition though to, ah, shifting more towards the renewables, that, of course we need, and uh, the other leg of that stool is conservation, President Obama, it scares me, it saddens me that the CEO of our nation does not understand that inherent link between the conventional sources of energy that we are dependent upon and our security and our prosperity, our freedom."*
*Miss. Teen South Carolina is expected to file a copyright infringement claim soon. (Eds.)
O'Reilly, wisely, chooses not try to engage this verbal oil spill (probably scared that he'll "own it" if he does) and instead asks Palin a series of probing questions like:
"What would you do tonight?"
Palin's answer, that she would tell the American people that "stopping the gusher" was her number one priority, leaves a visibly perplexed O'Reilly scratching his head and pointing out that up to now the spill has resisted all attempts at a fix: "but nobody knows how to do it" O'Reilly objects. When Palin suggests that Obama could stop the spill if he wanted to, but would instead rather use the gusher to push a Cap and Trade bill through congress, O'Reilly interrupts incredulously "Are you telling me that you don't think the president's top priority is stopping that leak?"
Palin now appears shaken. Perhaps she has begun to grasp the stupidity of her bizarre and highly improbable conspiracy theory, perhaps she was not prepared to face a host on Fox who would actually challenge her to defend the peculiar claim. Whatever the reason, what comes next is even more absurd. O'Reilly asks Palin if she has a solution for stopping the spill. Her surprising answer surely couldn't have pleased O'Reilly or the coterie of reflexively xenophobic America Firsters who form Palin's natural base of support: "Well then what the Federal Government should have done is accept the assistance of foreign countries, of entrepreneurial Americans who have had solutions they wanted presented."
Apparently, then, Obama is to be faulted for not asking the Dutch government to send crews to seal our well (after all, they build dikes and stuff in Holland!), and for not reaching out to enough wild-eyed inventors with ricketty, steam-powered contraptions rattling away in their garages, put together with bailing wire and duct tape and designed to perform a job that has eluded teams of Oil industry engineers equipped with the latest and greatest technology, including robot submersibles with diamond blade saws that can dive down 5000 feet below the surface of the ocean and withstand pressures no human piloted craft could endure.
OK.
The interview is worth watching in its entirety, if only to prepare ourselves for the absolute, complete, and irredeemable catastrophe that will sink our once proud nation shortly after Palin is sworn in as our 45th president, in January of 2012:
(via Andrew Sullivan)
(UPDATE:  Sarah Palin lied when she claimed that the U.S. had not responded to calls for international assistance, including from Holland)
Add a Comment
Please
log in
to post a comment