Zombie Apocalypse Begins, Creating Widespread Havoc on East Coast; South Carolina Notices Little Difference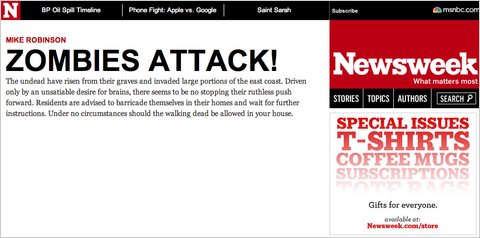 Newsweek has the breaking story:
The undead have risen from their graves and invaded large portions of the east coast. Driven only by an unsatiable desire for brains, there seems to be no stopping their ruthless push forward. Residents are advised to barricade themselves in their houses and wait for further instructions. Under no circumstances should the walking dead be allowed in your house.
If you haven't yet bought your Zombie Attack Survival Kit, now's a good time before Walmart is overru—
Hold on… We're getting an update…
Ah. Newsweek pulled a homepage prank Monday, revealing the story only to those who knew to type up-up-down-down-left-right-left-right-B-A-Enter, which is Secret Zombie Code for I'm Tired of This Fucking Game. Stinque apologizes if you prematurely shot your neighbor's brains out.
Add a Comment
Please
log in
to post a comment