Sometimes a Cigar is Just a Politically Incorrect Bad Influence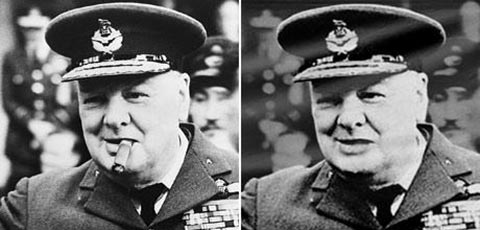 As we run to the store for a six-pack prepare for tonight's Oval Office speech, comes news from across the pond that their goalie still sucks one of their Great Leaders has been airbrushed:
In the well-known original image, Churchill makes a "V" shaped symbol with his fingers — while gripping a cigar in the corner of his mouth.

But in a reproduction of the picture, hanging over the main entrance to a London museum celebrating the wartime leader, he has been made into a non-smoker through the use of image-altering techniques.

It is unclear who is responsible for doctoring the photograph, with the museum — The Winston Churchill's Britain at War Experience — claiming not to have noticed the cigar was missing.
We suspect Smokin' Barry of swiping the stogy.
Add a Comment
Please
log in
to post a comment