We've Been Had!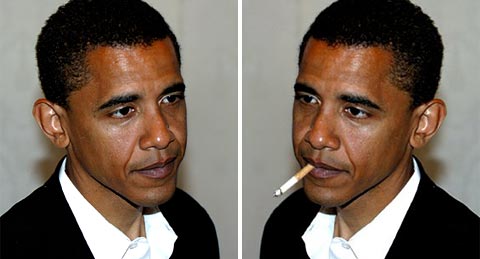 Much to our consternation, it turns out that our favorite Obama photo — Smokin' Barry — is a fake.
On the other hand, much to the hoaxter's consternation, the fake backfired.
Presuming, of course, that the intent was to discredit Obama before a nation of Rob Reiners. Because the doctored photo actually endeared Obama to a nation of exiled sidewalk smokers. Hey! He's one of us! Or if not quite one of us, one of our Blue Note album covers! Close enough!
Sure, Barry can't bowl for shit, but at least he can handle his Camels. And that's all we ask.
Barack Obama Smoking [Museum of Hoaxes]
Add a Comment
Please
log in
to post a comment