Campus of the Living Dead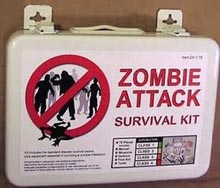 In what is surely the most awesome thing to hit the Internet since the Stinque Zombie Bible, the University of Florida has published a Zombie Preparedness Guide, in the event Gainesville is overrun by the Undead.
Besides College Republicans.
The document is structured as a training exercise, since you don't want to lose your head while everyone else is, um, losing theirs. In addition to properly identifying "difficult to kill, flesh-eating perpetrators", staff are advised in appropriate armaments:
Some employees may prefer weapons such as chain saws, baseball bats, and explosives that have been shown to be effective against zombies. Given the stress on staff to be anticipated during a zombie outbreak, employees should be given the flexibility to choose their own weaponry thereby diminishing anxiety. However, the University will need to consider the savings gained at economies of scale as well as enhanced ability to support a standard anti-zombie weapons "kit."
It also includes an "Infected Co-Worker Dispatch Form" for efficient management of emergency services. Staff are required to indicate whether the zombie just wiped out displayed symptoms such as headaches, chills, or "references to wanting to eat brains."
The genius behind the document is Doug Johnson, manager of UF's e-Learning Support Services, who was wondering how his office would handle an outbreak of swine flu. Given the recent outbreak of Town Halls, we wish his inspiration had reached us sooner — it would have provided a convenient solution.
Alas, Johnson's superiors were not amused, and the document was removed from the UF website Thursday. But happily, nothing ever dies on the Internet — we found it in Google's cache and resurrected it to our Scribd account, where you may now waste your workday appreciating Doug's handiwork.
Thank goodness! UF has a plan for zombie invasions [Gainesville Sun]
Add a Comment
Please
log in
to post a comment