Don't Tease the Panther
Title: "The Overton Window"
Author: Kevin Balfe (attributed to Glenn Beck)
Rank: 5
Blurb: "A plan to destroy America, a hundred years in the making, is about to be unleashed… can it be stopped?"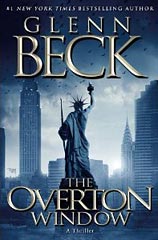 Review: Published this Tuesday, so none yet. Well, except for Media Matters:
Noah and Molly find themselves in bed together early in the book after a harrowing experience at a Founders' Keepers rally. They agree to sleep in bed together because Molly is too scared to sleep at home, but Molly insists that nothing sexual will take place. Noah agrees, on the condition that she "not do anything sexy." She presses her cold feet against his legs, and Noah responds:

"Suit yourself, lady. I'm telling you right now, you made the rules, but you're playing with fire here. I've got some rules, too, and rule number one is, don't tease the panther."
Customers Also Bought: "The Time Pirate: A Nick McIver Time Adventure (Nick McIver Adventures Through Time)," by Ted Bell
Footnote: If you have yet to enjoy the promo video, the text is from Kipling's "Gods of the Copybook Headings". Minus the line about "All is not Gold that Glitters".
Buy or Die [Stinque@Amazon kickback link]
Add a Comment
Please
log in
to post a comment