Stinque Recipe Challenge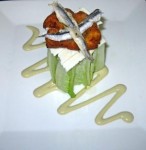 I think I need to give the Julia Child thing a rest this weekend, so something fairly simple: Salmon Caesar Salad:
Caesar Salad Components
Romaine Lettuce, usually just the hearts. The romaine can be chopped, but was traditionally left whole and eaten with the fingers instead of utensils.
Garlic Croutons: Don't over think this one. Croutons are nothing more than toasted bread, in this case tossed with crushed garlic, olive oil and salt and pepper after being toasted. My favorite way to toast croutons is to fry them in oil, but you can also bake, pan fry or toast in a toaster oven.
Anchovy Fillets (Optional): Not a part of the traditional Caesar salad but is now a common component in modern versions. I like to personally use whole, white anchovy fillets called Boquerones.
Grated Parmesan Cheese: This can really be any hard, aged cheese that you desire. Parmigiano-Reggiano, aged Asiago, and Pecorino Romano are all good choices.
Caesar Salad Dressing Recipe and Technique
To better understand the process of making Caesar Dressing, first review this post on Understanding Emulsions. To make Caesar Dressing you will need:
2 Egg Yolks
6 Anchovy Fillets (Optional)
2 Cloves Raw Garlic
2 Lemons Juiced
2 Tbl Worsteshire Sauce
1 1/2 Good Olive Oil
2-3 Ozs Grated Parmesan Cheese (Optional)
Water to Thin
Process
Combine egg yolks, anchovy fillets, garlic, lemon juice, and Worsteshire Sauce in a blender and blend until smooth (about 10-15 seconds).
Add in grated Parmesan Cheese and blend until incorporated.
Slowly start stream in olive oil to for an emulsion. If the dressing becomes too thick before all oil is emulsified, thin out with a little splash of cold water.
Continue to emulsify olive oil until it is all incorporated. The final consistency should be that of a thin mayonnaise.
The guy who did this recipe (and lots of others) is a professional chef – Chef Jacob. He has a blog – freeculinaryschool.com. There are lessons for breads, stocks, and other things. I subscribe to his podcast, and he has really inspired me to take my cooking to another level. Check out the website.
Add a Comment
Please
log in
to post a comment