Ten Worst Movies?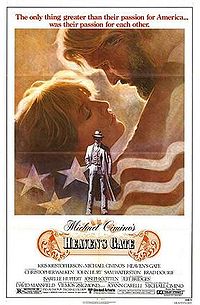 Yesterday it was twelve appalling cars, so today we'll tackle the ten worst movies according to Salon. But there's a problem – Heaven's Gate isn't on the list.  Our favorite movie review of all time, by Joe Queenan (which was actually a review of The Hottie and the Nottie) should be required reading for whoever put this list together. A taste:
This brings me to my major point. To qualify as one of the worst films of all time, several strict requirements must be met. For starters, a truly awful movie must have started out with some expectation of not being awful. That is why making a horrific, cheapo motion picture that stars Hilton or Jessica Simpson is not really much of an accomplishment. Did anyone seriously expect a film called The Hottie and The Nottie not to suck? Two, an authentically bad movie has to be famous; it can't simply be an obscure student film about a boy who eats live rodents to impress dead girls.
Three, the film cannot be a deliberate attempt to make the worst movie ever, as this is cheating. Four, the film must feature real movie stars, not jocks, bozos, has-beens or fleetingly famous media fabrications like Hilton. Five, the film must generate a negative buzz long before it reaches cinemas; like the Black Plague or the Mongol invasions, it must be an impending disaster of which there has been abundant advance warning; it cannot simply appear out of nowhere. And it must, upon release, answer the question: could it possibly be as bad as everyone says it is? This is what separates Waterworld, a financial disaster but not an uncompromisingly dreadful film, and Ishtar, which has one or two amusing moments, from The Postman, Gigli and Heaven's Gate, all of which are bona fide nightmares.

…

All that said, none of these very, very, very bad movies automatically qualify as the worst film ever made. While it may disappoint those who welcome my occasionally unconventional opinions, I am firmly in the camp that believes that Heaven's Gate is the worst movie ever made. For my money, none of these other films can hold a candle to Michael Cimino's 1980 apocalyptic disaster. This is a movie that destroyed the director's career. This is a movie that lost so much money it literally drove a major American studio out of business. This is a movie about Harvard-educated gunslingers who face off against eastern European sodbusters in an epic struggle for the soul of America. This is a movie that stars Isabelle Huppert as a shotgun-toting cowgirl. This is a movie in which Jeff Bridges pukes while mounted on roller skates. This is a movie that has five minutes of uninterrupted fiddle-playing by a fiddler who is also mounted on roller skates. This is a movie that defies belief.

A friend of mine, now deceased, was working for the public relations company handling Heaven's Gate when it was released. He told me that when the 220-minute extravaganza debuted at the Toronto film festival, the reaction was so thermonuclear that the stars and the film-maker had to immediately be flown back to Hollywood, perhaps out of fear for their lives. No one at the studio wanted to go out and greet them upon their return; no one wanted to be seen in that particular hearse. My friend eventually agreed to man the limo that would meet the children of the damned on the airport tarmac and whisk them to safety, but only provided he was given free use of the vehicle for the next three days. After he dropped off the halt and the lame at suitable safe houses and hiding places, he went to Mexico for the weekend. Nothing like this ever happened when Showgirls or Gigli or Ishtar or Xanadu or Glitter or Cleopatra were released. Nothing like this happened when The Hottie and the Nottie dropped dead the day it was released. Heaven's Gate was so bad that people literally had to be bribed to go meet the survivors. Proving that, in living memory, giants of bad taste once ruled the earth. Giants. By comparison with the titans who brought you Heaven's Gate, Paris Hilton is a rank amateur.
If you want more Queenan, nothing is funnier than Red Lobster, White Trash, & the Blue Lagoon.  Trust us.
Add a Comment
Please
log in
to post a comment