Stinque Recipe Challenge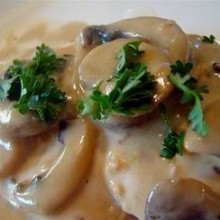 Because when SFL demands food pron, I get busy:
Suprêmes de Volaille aux Champignons
2 medium boneless skinless chicken breasts (a.k.a. suprêmes)
5 tbsp. butter
1 shallot, minced
1/4 lb. fresh mushrooms, sliced
1/8 tsp. salt
1/4 c. beef bouillon
1/4 c. dry white vermouth
1 c. whipping cream
1 tbsp. fresh parsley, minced
big pinch white pepper
salt to taste
pepper to taste
lemon juice to taste
I'm doing 3 chicken breasts w/ 4 breasts worth of sauce, but wev:
Preheat the oven to 400F. Rub the suprêmes with a squeeze of lemon juice, salt & pepper. Heat 2 tbsp. of the butter in an oven proof casserole until it foams. Quickly roll the suprêmes in the butter & cover. Cook for 15 – 20 minutes.* Check for done-ness by pressing the top of the suprêmes. If still soft return for a minute or two. When the meat is springy to the touch it is done. Remove the suprêmes & set aside.
Pour the bouillon & vermouth into the warm casserole with the remining cooking butter & boil down over high heat until the mixture becomes syrupy. Stir in the cream & boil down again over high heat until the cream thickens slightly. Taste & season as needed with lemon juice.
In a small sauce pan, add the remining butter & heat until foaming. Stir in the shallots & sauté a moment without browning. Then stir in the mushrooms & sauté lightly for a minute or two. Toss into the Volaille À Blanc sauce & pour over the chicken breasts & sprinkle with freshly minced parsley.
Not as complex as some of the other dishes I've attempted, but we'll see how it turns out.
And baked?  Yes – I took your advice, went to Zabar's, and got me a newfangled cookbook stand for the heavily-discounted price of $17.98. Behold the photographic proof: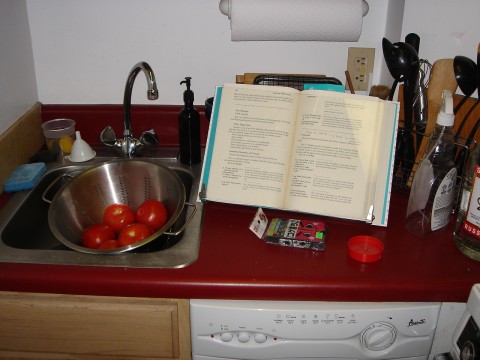 Add a Comment
Please
log in
to post a comment