Lieberman Aims for 2010 Crystal Douchebag
Stinque's 2009 Golden Anal Pear Asshole of the Year and runner-up for 2009's Crystal Douchebag for Lifetime Achievement, Senator Joe Lieberman of Connecticut, is introducing legislation today (co-sponsored by Senator Centerfold of Massachusetts) that would give the State Department the power to strip citizenship from any American that the department thinks has ties to a terrorist organization.
This patently unconstitutional bill flies in the face of decades of 14th Amendment jurisprudence and would allow the State Department to designate groups as supporting terrorism, US citizens linked to the groups would face the loss of their citizenship, rendering them "stateless."  Any American citizen, even if they have not been charged with or convicted of a crime, could lose their citizenship.
Given the not-so-great success the TSA's security alert list has been, with stories of 7 year old kids being tagged as terrorist suspects, the promise that there would be "administrative safeguards" at the State Department that would allow a citizen to challenge his or her loss of citizenship is of little use, especially with the Department's use of so-called secret evidence.  In addition, the list of terrorist organizations isn't exactly posted on the State Department's website, nor is the criteria used to make such a designation or the criteria used to evaluate the degree of involvement or connection needed to be "tied" to an organization.
What has Lieberman's panties in a wad is that accused Times Square bomber Faisal Shahzad was "Mirandized" by the FBI and NYPD, and he (and McCain and others) want to be able to have Shahzad and other American citizens tossed in military tribunals and tortured.  Lieberman seems to have a great misunderstanding about what it means to advise a criminal suspect of his or her rights.  The Miranda advisement is not a get-out-of-jail free card – it means that what the suspect says to police after the advisement will be admissible at a criminal trial.  Not Mirandizing Shahzad would have made it that much more likely that everything he has told investigators to date would not be used against him.
Lieberman's attempt to score cheap political points should send a chill down the spine of every person in this country, regardless of political or ideological affiliation or the political party controlling the Administration.  Who is to decide what a terrorist organization is?  Some consider the Ku Klux Klan a terrorist organization; others feel the same way about the ACLU.  When Bush 43 Administration attorneys are attacking the bill, you know there's a problem with it.
Citizenship is a birthright; it is not something that can be taken away with the stroke of a bureaucrat's pen.
In our country the people are sovereign and the Government cannot sever its relationship to the people by taking away their citizenship. Our Constitution governs us and we must never forget that our Constitution limits the Government to those powers specifically granted or those that are necessary and proper to carry out the specifically granted ones. The Constitution, of course, grants Congress no express power to strip people of their citizenship, whether, in the exercise of the implied power to regulate foreign affairs or in the exercise of any specifically granted power.
Afroyim v. Rusk, 387 U.S. 253, 257 (1967)
**********************************************************
On a MUCH lighter note, look at Shelley O all dressed up for Cinco de Mayo!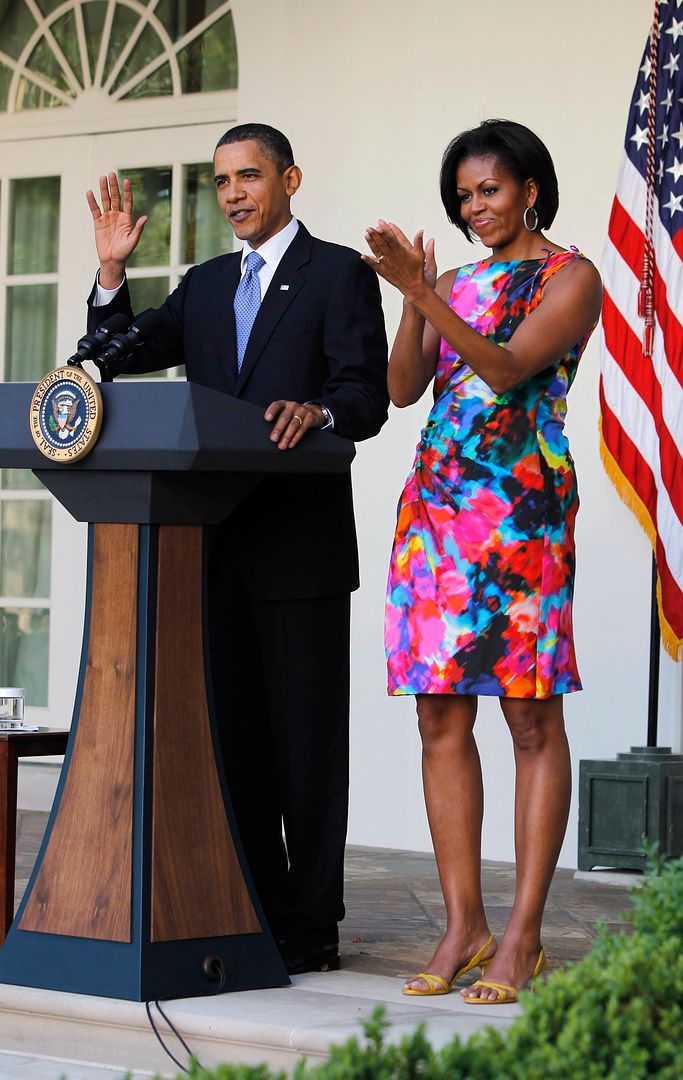 Fashionistas, what say you about the outfit? I think it looks hawt and I was thrilled that she didn't wear the weight-lifting belt OR the cardigan. Strappy sandals are cute, too.
Add a Comment
Please
log in
to post a comment