Crystal Douchebag for Lifetime Achievement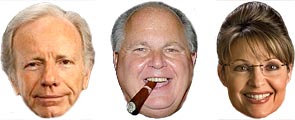 We don't hand out Crystal Douchebags lightly. The awesome mystery of our most prestigious award is not just who will win, but whether anybody deserves the honor in a given year. Two-time Golden Anal Pear winner Joe Lieberman is an audience favorite, but are we letting recent events color our judgment? Sarah Palin seemingly has no achievement to speak of — besides losing and quitting — yet even her tweets command close attention. And what about Rush Limbaugh? He has no official power, and never will. Is he even worthy of consideration?
And the winner is…
Rush Limbaugh. No, it wasn't his declaration that he wants Obama to fail. It was the parade of Republican supplicants begging his forgiveness whenever they crossed him. If you think it's frivolous to recognize Rush for his service to infamy, just imagine American politics — and society — without him.
And that brings us to the end of The 2009 Stinque Awards! Parts of the program not affecting the outcome were edited. Mr. Giuliani's gown provided by Target of Burbank. Promotional consideration provided by Lipton. Stay tuned for a live edition of The Real Pestorkers of C Street following your local news.
Add a Comment
Please
log in
to post a comment