Field of Screams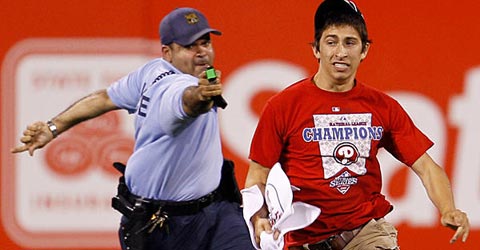 So, what does it take to put tasering on the national agenda? Three hundred deaths? Grandma getting zapped? "Don't tase me, bro"?
How about a kid running onto the field during a Phillies game?
The Philadelphia Police Department has said that the officer acted in accord with department guidelines, which allow officers to fire their Tasers to subdue fleeing suspects…

Many police officers argue that cultural criticism of the Taser is largely unfounded since its benefits — the relative safety of the device weighed against fewer injuries to the police officer — are greater than the possibilities for abuse.

"We didn't get this [negative] reaction when nightsticks were used to split heads open, but because of the technology and what it does, the media have really exacerbated the issue of the Taser," former Boca Raton, Fla. police chief Andrew Scott told the Monitor in 2008.
So we have here a fleeing suspect, who in years past would have been bludgeoned instead of zapped, since he's clearly a risk to the fat fuck chasing him. Got it.
Phillies Fan Runs Onto Field, Gets Tased [YouTube]
Add a Comment
Please
log in
to post a comment