Go Pluck Yourself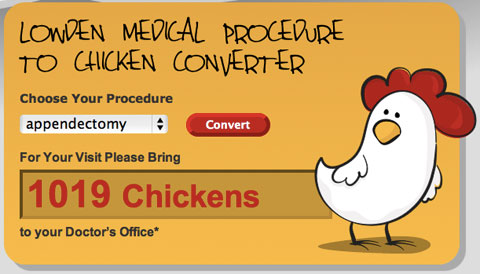 The Chicken Meme kicks into high gear:
This site makes no guarantees regarding the correct number of chickens for your procedure. Chicken count is an estimate only based on current market value of typical live chickens and average costs of medical procedures gathered from multiple sources. Your doctor may require more chickens than specified. For your convenience, we recommend bringing at least 20% more chickens than specified to any doctor's appointment.
We would applaud their fine work, but we're insanely jealous, so we hate-hate-hate them for doing it first, and doing it well.
Add a Comment
Please
log in
to post a comment