Visit Beautiful Yosemite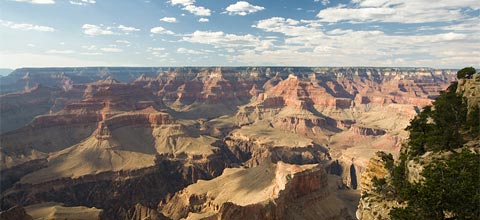 As you probably know by now, you can get arrested in Arizona for wearing the wrong shoes without a license. All it takes is an unspecified "reasonable suspicion" by a cop that you're not from around these parts, followed by a demand that you show your papers.
But not just any papers. The new law is very explicit about what will keep you out of the hoosegow:
A PERSON IS PRESUMED TO NOT BE AN ALIEN WHO IS UNLAWFULLY PRESENT IN THE UNITED STATES IF THE PERSON PROVIDES TO THE LAW ENFORCEMENT OFFICER OR AGENCY ANY OF THE FOLLOWING:

1.  A VALID ARIZONA DRIVER LICENSE.

2.  A VALID ARIZONA NONOPERATING IDENTIFICATION LICENSE.

3.  A VALID TRIBAL ENROLLMENT CARD OR OTHER FORM OF TRIBAL IDENTIFICATION.

4.  IF THE ENTITY REQUIRES PROOF OF LEGAL PRESENCE IN THE UNITED STATES BEFORE ISSUANCE, ANY VALID UNITED STATES FEDERAL, STATE OR LOCAL GOVERNMENT ISSUED IDENTIFICATION.
Not included: Passports. You folks from overseas might want to scratch the Grand Canyon from your vacation plans.
Add a Comment
Please
log in
to post a comment