Europe: Like High School, But With Ashtrays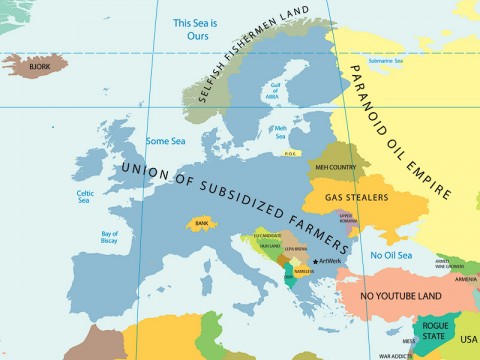 Your favorite foreign correspondent has taken time out of her busy wine-drinking schedule to report on a bunch of fuckery happening presently:
Italy
Berlusconi, class clown, made fun of the lefty governor of the Piemonte region: "You know why Bresso is always in a bad mood? Because in the morning when she gets up, she looks at herself in the mirror to put her make-up on – and sees herself. And so her day is already ruined."
Her reply? "I'm always in a good mood. And regarding make up, I don't use much; I don't need it as much as Berlusconi. I'm young, in good shape and haven't had a facelift."
Oh, snap! The emperor might not be completely naked yet, but he's definitely showing some leg. It doesn't help that Berlusca's party failed to register its candidates on time because the designated official was at lunch.
Berlusca also recently appeared in public flanked by 12 administrators and declared his follwers to be missionaries. And the batshit-crazy right Lega Nord party handed out anti-immigrant soap, to wash one's hands in case one came in contact with an immigrant. Stay classy, Italy!
Vatican City
Pope Ratzi apparently sanctioned kiddie-diddling on five continents. And in possibly related news, Chief exorcist Father Gabriele Amorth says the devil is loose in the Vatican and roaming the halls.
France
Sarkozy got spanked by the left in last Sunday's elections, which left Socialists in control of 23 of France's 26 regions. Protests, teargas, blah blah blah. There's no pleasing these fucking people.
A dozen French winemakers and traders were found guilty of a massive scam to sell 18 million bottles of shite Pinot Noir to a leading US buyer. Their defense: "Not a single American consumer complained."
Greece
Holy shit, are they broke. But they insist that if Germany and France throw them a safety net, they can row themselves ashore. Upside? This whole kerfuffle is making the dollar soar against the euro, which means my rent is cheaper. Oh, and more tourists or something.
UK
Political headline, or quote from a James Ellroy novel? You decide.
Add a Comment
Please
log in
to post a comment