Purged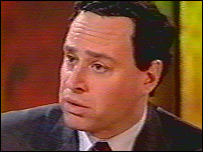 Miss Expatria sends word that David Frum has been purged for his heresy:
As of Thursday, Mr. Frum had become a former fellow at the American Enterprise Institute.

Mr. Frum said he was taken out to lunch by the president of the organization, Arthur C. Brooks. He said Mr. Brooks told him the institute valued a diversity of opinion, and welcomed that one of its scholars had become such a high-profile critic of Republican legislative leaders. Mr. Frum, who has been with the institute since 2003, said that he was asked if he would considering being associated with the institute on a nonsalaried basis.

Mr. Frum declined.
You have to admire their discipline ….
Add a Comment
Please
log in
to post a comment