War is Health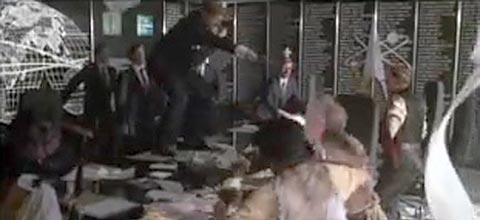 While we accept that the new healthcare law is an improvement over what preceded it, we've never been fans of the "individual mandate". We understand the actuarial realities underpinning it, and we're happy that those less fortunate than us will qualify for higher subsidies than we're looking at.
But like we've said: Please don't compare it to car insurance.
To which we now add: And please don't compare it to militias.
We're looking at you, ThinkProgress:
The truth… is that the Second Militia Act of 1792 required a significant percentage of the U.S. civilian population to purchase a long list of military equipment.
The argument is that no less a socialist than George Washington drove a tyrannical government to force its citizens to buy "a good musket or firelock, a sufficient bayonet and belt, two spare flints, and a knapsack, a pouch, with a box therein, to contain not less than twenty four cartridges."
Knapsack optional on training days, of course.
That's a cute talking point, guys, but even a cursory look at the Militia Act makes us squeamish. And not because of the thematic dissonance, but because it effectively involved conscription — or, as it's known in our time, The Draft.
Not exactly the precedent you want to wave at Progressives.
Surely there's some dusty law that required everyone to buy horses? Because we'd feel just a little better if we were compelled to pay a Pony Tax.
Add a Comment
Please
log in
to post a comment