Baby You Can Drive My Car Insurance Analogy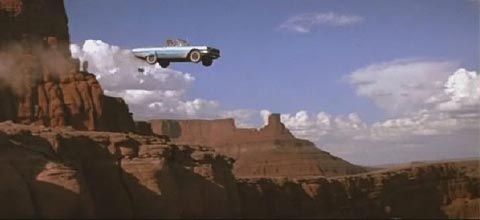 Now that the Public Option has been redacted from healthcare reform like a Sharpie on a visor, focus is shifting to the screw-you provision "individual mandate," which would require folks to buy health insurance or face a penalty. And while there are reasonable arguments to be made for the Mandate, one we fear we're going to be hearing too much about is the comparison to car insurance.
States require citizens to buy car insurance, after all, so what's the problem?
Just one: States do not require citizens to buy car insurance.
Was that unclear?
STATES DO NOT REQUIRE CITIZENS TO BUY CAR INSURANCE.
But how can that be? How can one of the major talking points of healthcare reform's Individual Mandate be so easily undermined?
Don't take our word for it. Ask your friends. Ask your relatives. Surely you know somebody who doesn't have car insurance — and yet the state doesn't hunt them down and slap them with a nasty fine for their indiscretion.
Their secret? They don't own a car.
We know, we know — in America, no less. Yet it's true!
And this is not only where the analogy fails, but gets downright creepy.
What gives states the authority to require car insurance is that driving itself is a state-licensed privilege, not a fundamental right. You're perfectly free not to buy car insurance — as long as you don't drive. Or, to be practical about it, as long as you don't get caught.
Apply that to health insurance, and watch what happens: Purchasing insurance becomes a requirement of citizenship. Or, to go to extremes — which we will — a requirement of living. Living in turn is a state-licensed privilege. You're perfectly free not to live, of course. But should you decide that living is right for your lifestyle, you must get permission from the state.
Which makes your local DMV the real Death Panel.
Oh, and the insurance you buy isn't to protect your own life: It's to protect the other damn fool from your inability to maintain control of your soul.
Which, come to think of it, may be a selling point: We'd feel a lot safer if everyone around us bought liability insurance.
Add a Comment
Please
log in
to post a comment