Political Pundit of the Decade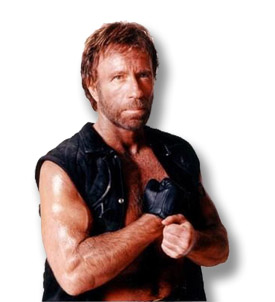 You can be forgiven for thinking that the task of choosing a political commenter of the decade would be a difficult one, what with luminaries like William Kristol and Charles Krauthammer continually churning out awesome copy that suffers only from the slight inconvenience of being wrong 98% of the time.
But in fact, Chuck Norris makes it easy to cut through the Gordian knot of worthy commentary and choose a winner. And that's because no one brings the krayzeee quite like Norris brings the krayzee. Consider, for instance, Norris' latest contribution to the esteemed conservative journal of laughable opinion, Human Events. It is quite sensibly titled What If Mother Mary Had Obamacare? and makes the perfectly reasonable observation that if Mother Mary had access to affordable health insurance she would surely have used it to abort baby Jesus in a shameful and completely selfish bid to avoid being stoned to death for adultery:
Lastly, as we near the eve of another Christmas, I wonder: What would have happened if Mother Mary had been covered by Obamacare? What if that young, poor and uninsured teenage woman had been provided the federal funds (via Obamacare) and facilities (via Planned Parenthood, etc.) to avoid the ridicule, ostracizing, persecution and possible stoning because of her out-of-wedlock pregnancy? Imagine all the great souls who could have been erased from history and the influence of mankind if their parents had been as progressive as Washington's wise men and women! Will Obamacare morph into Herodcare for the unborn?
Now bleeding heart liberals would probably counter that Mary would have been unlikely to abort a child that the Angel of the Lord had already informed her was the Son of God… even if she could do it for free. They might also suggest that if you want to prevent teenage girl from aborting their babies maybe a policy of stoning them to death when they get pregnant isn't the best way to go about it.
But that's why liberals are so Goddamned infuriating. They simply fail to note the obvious connection between universal health care and Satan's plan for world domination.
Anyway, that's my nomination for commenter of the decade. And I just can't wait for Norris next column:
(Don't miss my Christmas column next week, titled "Away With the Manger," about how the feds are whitewashing America's Judeo-Christian heritage via a progressive, politically correct and pro-Muslim platform.)
Go Chuck! America needs a political voice who makes Michelle Malkin sound sensible by comparison.
(Via Sully)
Add a Comment
Please
log in
to post a comment